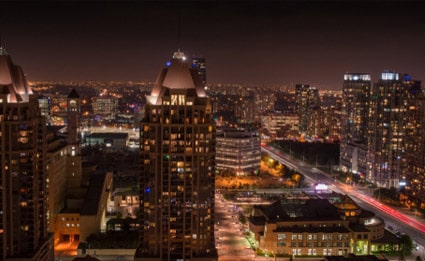 With a population of over 600,000 residents, Brampton is one of the largest suburbs in the GTA. Founded in 1853, Brampton is full of history and Canadian heritage. It has grown into a premier suburban destination for families and professionals looking to move out of the city of Toronto while remaining close enough to commute to work daily.
Brampton's familial majority also makes it a prime residential area with great schools and a sense of community pride. This contributed to the mass immigration seen in the area over the last 20 years. With so many family units residing in Brampton, appliance repair services are also at a premium, simply because of the immense population of homeowners.
Home Appliance Repairs in Brampton
As a top appliance repair company, we take pride in having an innate knowledge of all of the GTA suburbs, including Brampton. Many of our staff and team members reside in Brampton, and we have spent many years servicing appliances for homeowners and residents in the city. As homeowners ourselves, we understand how necessary your household appliances are in keeping your home running at a steady pace.
When the dishwasher breaks down, or the fridge acts up, it can throw your entire home into chaos — especially for families with children. In your time of need, we're here to help. Our team of local appliance repair technicians offers comprehensive diagnostic, repair, replacement, and installation services for Brampton residents.
Being our neighbours, we promise to provide you with outstanding customer service and quality repair work at an affordable price. Our technicians always provide you with a comprehensive, transparent quote before they begin work, so you can rest assured knowing exactly what your repairs cost.
Brampton Refrigerator Repair
When your refrigerator breaks, it can have a massive impact on your daily health and nutrition, as well as your weekly or monthly budget. Unfortunately, if your fridge stops working, many Brampton residents must opt for fast-food, take-out, or cold meals. Not only can these alternatives be expensive and unhealthy, but they are also inconvenient for many.
For Brampton residents, we provide full-service refrigerator repairs, often with same-day service. Our team is well-versed in the common issues with many different fridge makes and models, and we can repair your appliance with minimal interruption to your routine.
Brampton Oven Repair
Is your oven failing to heat up? Or maybe the temperature controls aren't accurate. In any case, our team of certified oven repair technicians in Brampton can help. We provide diagnostic services to identify the main issue your oven is experiencing and create a plan to solve it with minimal interruption to your routine at an affordable price point.
Our technicians are dedicated to providing high-quality repair services for Brampton residents. As local community members ourselves, you can trust that we can take care of your appliance as if it was one of our own.
Brampton Stove Repair
When your stovetop breaks, it can make it difficult to cook a meal for your family. Even worse, malfunctioning stovetops and range stoves can pose a significant fire risk, which can put your family and home in danger. If you are experiencing any issues with your stove or cooktop, call Prime Appliance Repairs for quick, efficient, and friendly service.
Often, we can diagnose and solve the issue in as little as one visit. For more complex problems, we will do our best to handle it in a time-sensitive manner so you can get back to your life without worrying about how you're going to cook dinner for your family.
Dishwasher Repair in Brampton
Is your dishwasher leaking? Or maybe it's not draining properly? It could be that it's just failing to heat up and effectively rinse your dishes. No matter the case, our professional technicians in Brampton can help solve a wide range of dishwasher issues.
If your dishwasher isn't working correctly, we can help! Instead of doing your dishes by hand and wasting space on a less-than-functional appliance, call Prime Appliance Repairs. Our experienced technicians, local to Brampton, can diagnose common issues and do the same-day repair. For more complex repairs, we can source the necessary parts and perform the repair with clear, transparent pricing. You'll know exactly what you'll be paying before we start the repair.
Washer & Dryer Repair in Brampton
Washing machines and dryers are relied on by countless families in Brampton who need in-house laundry. While some people opt to wash their clothes at a laundromat and dry them on a clothesline, the convenience offered by washers and dryers is unbeatable. At Prime Appliance Repairs, we know that even a small interruption to your routine can disrupt your life. However, our technicians are dedicated to providing quick, efficient repair services for both washing machines and dryers. Our technicians ensure minimal delay to your regular laundry schedule.
Why Choose Us for Appliance Repairs in Brampton?
At Prime Appliance Repairs, we take pride in providing the Brampton community with premium appliance repair services. Our customer service representatives and trained appliance technicians work with you to find the root cause of your appliance issues.
Our team is well-versed in the unique issues related to most major brands, makes, and models, so you can trust that your household devices are repaired with confidence. For extra security and added peace of mind, we also offer Brampton and GTA residents a 6-month warranty for all work completed by our technicians.
We identify the best solution to the issue at an affordable, transparent price-point that fits your budget. In the event that a replacement is needed, we can recommend an alternative appliance compatible with your needs, and we'll even install it for you. For more information about appliance repair and installation services in Brampton, or to get a quote for a project, check out our "Contact Us" page.
Our Services for Brampton Residents
For residents of Brampton, the GTA, and beyond, we offer all-inclusive diagnostic and repair services for a wide range of household appliances. From large kitchen appliances to smaller cooking devices, our team of repair techs can help you find the source of the problem and take the steps to fix it with minimal interruption to your routine.
We also offer Brampton households affordable installation services for new appliances, so you never have to worry about setting it up all by yourself.
At Prime Appliance Repairs, we understand that broken appliances can cause a massive disruption to your everyday life, which is why we aim to perform every repair in a swift, efficient, and time-sensitive manner. Our technicians have a thorough understanding of the unique features of different brands, makes, and models so that they can recommend a replacement appliance with confidence.
We Have Technicians
All Over The GTA!