When to Call for dishwasher repairs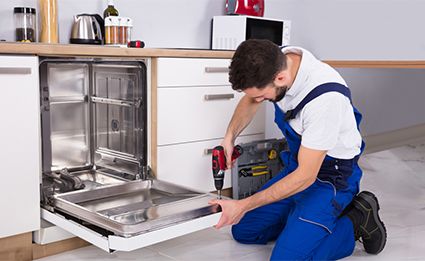 Is your dishwasher leaking and slowly causing water damage in your kitchen?
Or maybe it just isn't getting your dishes clean anymore, leaving food debris and residue on your dishes, even after multiple washes? In either case, if dirty dishes are piling up and you can't keep washing them by hand, it's probably time to call Toronto's top dishwasher technicians.
Damaged Dishwasher Setbacks
For many Canadian families, their dishwasher is an invaluable appliance in their home. Not only does it significantly reduce the time it takes to wash dishes for an entire family, but it's often a more sustainable way of washing your dishes. In fact, it is estimated that hand-washing your dishes uses as much as 5 times the amount of water as an efficient dishwasher and 3.5 times the amount of water as an average dishwasher. Over the course of a year, this can have a significant impact on your water consumption.
For anyone who uses a dishwasher daily, you can imagine the impact that a broken dishwasher would have on your daily routine. The frustration that comes from opening your dishwasher after a wash cycle — only to find all of your dishes still caked with food debris and sauce remnants — is enough to put anyone in a bad mood. This is unsanitary, as it can lead to bacterial growth on your dishes and in your dishwasher itself, and still requires you to wash the dishes by hand.
The interruption to your regular lifestyle caused by having to hand-wash your dishes can certainly add stress to your day and take time away from other vital tasks such as working or spending time with your family. Fortunately, this chaos is largely avoidable — call one of our dishwasher technicians in Toronto, and we'll handle the rest.
Dishwasher Repair Services
At Prime Appliance Repairs, our team of appliance technicians offers comprehensive dishwasher repair and installation services for homeowners and residents in the GTA, Hamilton, and Niagara. Our team is well-equipped to diagnose issues with your dishwasher, provide a detailed quote for repair services, and perform the repairs. We pride ourselves on being able to restore your dishwasher and other appliances to optimal performance with minimal interruption to your everyday routine.
What types of dishwashers do you repair?
Our dishwasher technicians are well-versed in the unique repair requirements for built-in dishwashers, portable models, countertop makes, and double-wide sizes. As well, we service all of the major dishwasher brands. If you do not see your make or model in our list of dishwasher providers, please contact us directly to inquire about a repair.
What kinds of dishwasher issues can you repair?
Our team of appliance technicians can repair virtually any dishwasher issue including leaking, error codes, inconsistent wash times, inability to turn on, noises and vibrations during the wash cycle, improper draining, inability to dry dishes, and visible damage to the appliance. We can also repair broken dishwasher gaskets, broken or misaligned doors, and damaged soap trays. During our diagnostic exam, we will also let you know if it will be cheaper and more convenient to replace the dishwasher entirely, rather than try to repair it.
For help with other dishwasher issues or emergency dishwasher repair, please contact our team directly to request additional services.
How long does a dishwasher repair take?
When it comes to dishwasher repairs, we try to minimize disruptions to your routine as much as possible. In some minor cases, we can offer same-day diagnosis and repairs for common dishwasher problems. If the issues persist, it may take longer to repair. For every project, our technicians offer diagnostic procedures to identify the problem, and they communicate accurate timelines and pricing quotes before starting any repairs.
How much does a dishwasher repair cost?
Our technicians provide a full quote on-site after performing a diagnostic test to identify the issue. We pride ourselves in offering transparent pricing, so you never receive an unexpected bill for our services.
Our service call is $89 plus HST, but we offer a free service call with any repair through our technicians. From there, you are only responsible for paying for any necessary parts and labour. You'll receive a quote before any work takes place, ensuring you know exactly what you are paying before work begins.
What brands do you service?
Our technicians are capable of servicing and repairing all major brands, models, and makes, including:
Samsung
LG
Dacor
Bosch
Thermador
Kenmore
Electrolux
GE Appliances
Maytag
Whirlpool
Frigidaire
Fisher & Paykel
KitchenAid
Jenn-Air
Miele
Viking
Sub-Zero
Wolf
Asko
True
Sears
Amana
Hotpoint
NuTone
Admiral
Gaggenau
Magic Chef