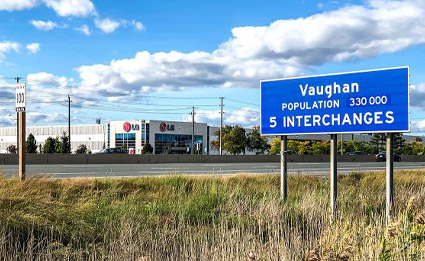 Located a one hour's drive north of downtown Toronto, Vaughan boasts a population of over 300,000 people — many of whom are families living in the suburbs along Highway 400. With the city a short drive away and Canada's Wonderland just down the road, Vaughan has plenty of activities for individuals and families alike. The influx of people moving to the suburbs has caused Vaughan to see immense population growth over the last decade, resulting in more and more residential areas, parks, and fun family activities being built in the area. The bustling community continues to expand and grow more diverse, resulting in a true cultural mosaic.
Appliance Repairs in Vaughan
For families in the Vaughan area, household appliances play a key role in their everyday lives. Especially for those who have to commute down the highway to work or school, their household cooking appliances make it possible to enjoy a delicious, home-cooked meal after a long day and a long drive. When your appliances aren't working properly, it can throw a wrench into your entire weekly routine. When this happens, we're here for you. As a top appliance repair company, we provide high-quality appliance repair and installation services for Vaughan residents. Our team of certified repair technicians can resolve any problems with your household appliances — many with just one visit. For more complex problems, we promise to solve your issue swiftly and at an affordable price point. As GTA natives ourselves, we take pride in helping our neighbours with their appliance problems. We always provide clear, transparent pricing, so you know exactly what you have to pay before we start work.
Vaughan Washer & Dryer Repair
At Prime Appliance Repairs, we understand that a functioning washing machine and dryer are critical appliances for many Vaughan households. Without both appliances functioning at their best, washing laundry for your family can be an inconvenient, expensive, and time-consuming task — especially you have children and wash dozens of loads every month. Our team of technicians help identify the problem and take the necessary steps to fix the issue as soon as possible and with as little interference to your regular schedule as possible. We offer on-call and emergency repairs in Vaughan to address the issue the same day you call us, so we can get your washing machine or dryer working properly without compromising your daily routine.
Vaughan Refrigerator Repair
Is your fridge having difficulty keeping your food cold? Is it leaking water all over the floor? Or maybe it's just making lots of loud, obnoxious noises? For any refrigerator repair in Vaughan, our team is there. In your time of need, Prime Appliance Repairs are available to help solve any issues with your fridge. We understand that living without a fridge is a significant inconvenience that can have a huge impact on your everyday life. Not only can it compromise your ability to serve your kids delicious, nutritious food, but it can result in families spending dramatically more money on fast-food and take-out, which can derail any monthly budget. Our team of professional, certified technicians offers on-call and emergency repair services to help restore your refrigerator to its proper function, often within just one visit.
Vaughan Dishwasher Repair
Is your dishwasher leaking water and dish soap all over your floor? Is the drainage system clogged, resulting in poor cleaning quality? Maybe it's just failing to heat up and effectively rinse your dishes. In either case, our professional repair technicians can help solve a wide range of common dishwasher issues. If your dishwasher isn't working properly, we can help. Rather than washing and drying your dishes by hand and wasting space on an appliance that doesn't work, call Prime Appliance Repairs. Our seasoned technicians can identify common issues and repair them with haste — often on the same day. For more complex repairs, we will source the parts and perform the repair with clear, transparent pricing, so you know exactly what you will be paying before we start work — no surprise bills or shady pricing models.
Oven & Stove Repair in Vaughan
Ovens and stoves are a necessity for many families and households in Vaughan, as they allow individuals to cook nutritious, filling meals from the comfort of their own home. Without these important appliances, cooking can become a hassle. Ovens and stoves are a crucial reason why many families in Vaughan are able to maintain a healthy, balanced diet. This means your appliances must be operating at their best. Our team of professional repair technicians will help with addressing a wide range of issues that come with owning an oven and stove, so you can get back to cooking your favourite meals for your family.
Why Choose Prime Appliance for Repairs in Vaughan?
At Prime Appliance Repairs, we pride ourselves on being able to provide the Vaughan community with premium appliance repair services. Our customer service representatives and professional appliance technicians work with you to find the root cause of your appliance problems by analyzing the symptoms. From there, we identify the best solution to the problem at an affordable, transparent price-point that fits your budget. Our team is well-versed in the most common ailments related to most brands, makes, and models of major appliances, so you can trust that your household devices are repaired by someone who knows what they're doing. For added peace of mind, we also offer Vaughan residents a 6-month warranty for all work completed by our repair techs. If a replacement is needed, we can recommend an alternative appliance compatible with your needs, and we'll even install it for you. For more information about appliance repair and installation services in Vaughan, or to get a quote for a repair or installation, check out our "Contact Us" page.
Our Services for Vaughan Residents
For residents of Vaughan, the GTA, and beyond, we offer all-inclusive diagnostic and repair services for a wide range of household appliances. From large kitchen appliances to smaller cooking devices, our team of repair techs can help you find the source of the problem and take the steps to fix it with very little interruption to your routine. We understand that broken appliances can cause significant disruption to your everyday life, which is why we aim to perform every repair in a swift, efficient, and time-sensitive manner. We also offer Vaughan households affordable installation services for new appliances, so you never have to worry about setting it up all by yourself. Our technicians have a thorough understanding of the unique features of different makes and models so that they can recommend a replacement appliance with confidence.
We Have Technicians
All Over The GTA!