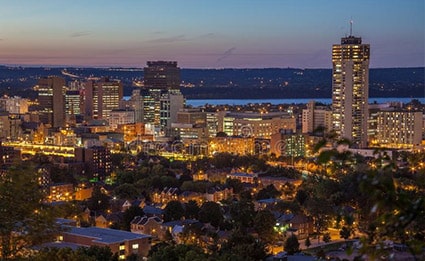 Boasting a population of over 535,000 residents, Hamilton is one of the largest urban centres in Southern Ontario (outside of the GTA). Hamilton is located just 58 kilometres southwest of Toronto, which is a quick drive up the highway. Officially founded in 1846, the Hamilton area has a rich history as a crucial strategic point for British soldiers in the war of 1812. After the war, Hamilton became a settlement for Canadian loyalists, which eventually grew into a key trading area located between Toronto and the United States. The city experienced a huge manufacturing boom in the early 1900s, helping it grow into the major metropolitan area we know today.
Appliance Repair in Hamilton
For residents in the Hamilton area, we offer comprehensive repair and installation services for a wide range of household appliances. As a top appliance repair company, we pride ourselves on our dedication to customer service — something that has made us a staple in the Hamilton community for many years. We provide all of our customers with swift, efficient appliance repairs to ensure you experience minimal interruption to your daily routine. Our team of highly-skilled, certified technicians are well-versed in the unique repair requirements of a wide variety of household appliances, and we can often diagnose and repair the issue in as little as one visit.
Hamilton Oven & Stove Repair
Faulty oven and stove mechanisms can pose a safety risk to your family and home. Not only can they burn food, but they can also pose a fire risk. For residents of Hamilton, Ontario, we provide comprehensive oven and stove repairs to get your appliance back in working order before your next big dinner party. If you notice that you are unable to control your appliances' heat settings, consider having a professional oven or stove repair technician take a look. Our team of skilled technicians is more than capable of diagnosing the issue and repairing it with minimal interruption to your daily routine. You can then enjoy your dinner party with the confidence that comes from knowing your appliance is up and running properly.
Hamilton Washing Machine & Dryer Repair
Is your washing machine not draining properly? Maybe it's leaking all over the floor? Alternatively, maybe your dryer is failing to heat up? If you are experiencing any of these issues with your washing machine or dryer, we can help. For many years, our team has provided comprehensive washer and dryer repair for Hamilton residents. At Prime Appliance Repairs, we understand the struggle of living without a washer and dryer, and the impact it can have on your everyday life. For many Hamilton families, a faulty appliance can add dozens of hours to your chore list, especially if you have to do your laundry at an expensive, inconvenient laundromat. Our technicians are available for on-call, same-day, and emergency repairs throughout the Hamilton area — we help repair your washer or dryer with minimal interruption to your daily schedule.
Hamilton Refrigerator & Freezer Repair
Unfortunately for many Hamilton residents, even the highest quality appliances can experience issues from time to time. Maybe your fridge is leaking, or it simply won't stay cold? When these issues pop up, our team of appliance technicians can help. We offer comprehensive refrigerator repair services for homes in the Hamilton area and beyond. For years, our team has been helping Hamilton families repair and install their home refrigerators, freezers, and fridge-freezer combos, ensuring they have as long of a lifespan as possible. If your refrigerator is loud and noisy or having any other issues, our certified appliance technicians can help diagnose the issue and repair it without significant delay.
Why choose us for appliance repairs in Hamilton?
At Prime Appliance Repairs, we are dedicated to providing Hamilton residents with premium appliance repair services. Our team of customer service representatives and certified appliance technicians work with you to identify the root cause of your appliance issues. From there, we identify the best solution to the problem at a price-point that fits your budget. Our representatives and technicians are well-versed in the unique requirements and issues related to every major brand, make, and model, so we can repair your appliances with confidence. In the event that a replacement is necessary, we can also recommend a make and model suitable for your family's needs. To inquire about appliance repairs services in Hamilton, or to get a quote for a repair, call our team or check out our "Contact Us" page.
Our Services for Hamilton Residents
For residents of the Hamilton area and beyond, we offer comprehensive diagnostic and repair services for a wide range of household appliances. From major kitchen appliances to smaller cooking appliances, our team of technicians can help you identify the source of the problem and take the necessary steps to fix it with minimal interruption to your normal routine. We understand that broken appliances can cause a huge disruption to your everyday life, which is why we try to perform every repair in a time-sensitive manner. We also offer Hamilton households comprehensive installation services for new appliances, so you don't have to worry about setting it up on your own. Our technicians are highly trained and well-versed in the unique features of many different makes and models so that they can recommend a suitable replacement appliance with ease.
We Have Technicians
All Over The GTA!