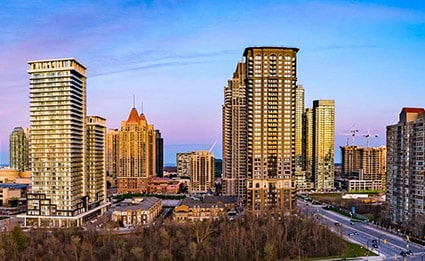 Once just a suburb of Toronto, Mississauga has grown into one of the most popular living destinations in Southern Ontario. Boasting a population of over 720,000 residents and located just minutes from downtown Toronto, Mississauga is home to countless families and residents who enjoy the peace and quiet of the suburbs but want to be close to the action in the downtown area. Mississauga rests on the cusp of Lake Ontario, offering gorgeous scenic landscapes and beautiful waterfront views, making it an in-demand location for residential and commercial space. With so many families and professionals in the area, appliance repair is in hot demand.
Appliance Repair in Mississauga
At Prime Appliance Repairs, we don't just work in Mississauga — we live here too. Many of our technicians and customer service representatives are local Mississauga residents themselves. Since we're neighbors, we strive to provide the same level of service we would give our own family and friends. Our team prides itself on our dedication to providing high-quality repair and customer service — something that has made us a staple in the Mississauga & GTA community for years. For all of our Mississauga customers, we deliver swift, efficient appliance repairs to ensure you experience minimal interruption to your everyday routine. Our highly-skilled technicians are certified in appliance repair for a range of household devices, and they are well-versed in the unique repair requirements of many household appliances. For Mississauga residents, we can often diagnose and repair the issue in as little as one visit.
Mississauga Dishwasher Repair
For many Mississauga residents who commute to downtown Toronto for school or work, their home appliances save them a ton of time that would otherwise be spent on chores. When it comes to washing dishes, dishwashers are a hassle-free option for many — fill it up with dirty dishes, turn it on, and go about your evening. When your dishwasher isn't working, it can put a significant strain on your schedule.
Is your dishwasher leaking or not draining properly? Maybe it's just failing to heat up and cycle, leaving your dishes caked with food debris? In either case, our professional technicians can help solve a wide range of dishwasher issues. For Mississauga residents in need, we can help. Rather than doing your dishes by hand and wasting valuable kitchen space on a broken appliance, call Prime Appliance Repairs. Our seasoned technicians can diagnose common issues and often repair them on the same day.
Mississauga Oven & Stove Repair
Ovens, range stoves, and stovetop cookers are trusted by countless Mississauga families to help them cook delicious, healthy food. When your oven or stovetop is malfunctioning, this can compromise your ability to cook for yourself and your family. This can be inconvenient and expensive, as you likely have to order food or pick up pre-cooked meals. For Mississauga residents, if your oven or stove isn't working properly, our appliance repair team can handle it.
Mississauga Washer & Dryer Repair
For many households in Mississauga, their washing machine and dryer are two of their family's most important home appliances. Every parent understands the value of a washer and dryer, especially when they need to wash a soccer jersey or favourite dress for their kids last-minute. While going to the laundromat to wash your clothes can be convenient for single people, families have a great deal more laundry — this makes laundromats an expensive and inconvenient option for many Mississauga residents. When something goes wrong with your washer or dryer, we can help. Whether the washing machine simply won't spin or the dryer won't heat up, our certified washer and dryer repair technicians identify the problem and solve it as soon as possible, posing minimal interruption to your family's routine.
Mississauga Refrigerator Repair
When your refrigerator breaks, it can massively impact your daily health and nutrition, as well as your overall budget. Unfortunately, if your fridge stops working, many residents in Mississauga are forced to get fast-food, take-out, or cold meals. Not only can these alternatives be expensive and unhealthy, but they're also inconvenient. For Mississauga residents, we provide full-service refrigerator repairs, often with same-day service. Our team is well-versed in the common issues of many different fridge makes and models, and we can repair your appliance with minimal interruption in your routine.
Why Choose Us for Appliance Repairs in Mississauga?
At Prime Appliance Repairs, we are dedicated to delivering premium appliance repair services to Mississauga residents. Our customer service representatives and certified appliance technicians work with you to find the cause of your appliance problem. From there, we identify the best solution to the problem at an affordable, transparent price-point that fits your budget. Our technicians and representatives are well-versed in the unique requirements and issues related to most major brands, makes, and models, so we can fix your appliances with confidence. If a replacement is necessary, we can also recommend a make and model appropriate for your family's needs. To inquire about appliance repairs in Mississauga — or to get a quote for an installation or repair — call our team or check out our "Contact Us" page.
Our Services for Mississauga Residents
For residents of the Mississauga & GTA area, we offer inclusive diagnostic and repair services for a range of household appliances. From large kitchen appliances to smaller cooking devices, our technicians can help you identify the source of the issue and take the necessary steps to solve it with little interruption to your everyday routine. We realize that broken appliances can cause significant disruption to your normal life, which is why we perform every repair in a time-sensitive manner. We offer Mississauga households comprehensive installation services for brand new and refurbished appliances, so you don't have to worry about setting it up yourself. Our seasoned technicians are highly trained and well-versed in the different features of many makes and models, so they can offer advice and find a suitable replacement appliance with ease.
We Have Technicians
All Over The GTA!