Stove Appliance Repairs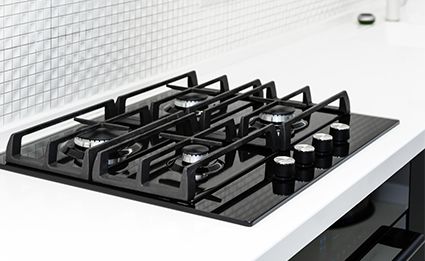 A range stove is one of the most common appliances in Canadian households. Whether you live in a small apartment or a house with a large kitchen, range stoves are an efficient use of space in any setting. By combining both a traditional oven and a cooktop stove, this convenient appliance lets you cook multiple things at once. From frying food in a pan on the stove to baking or roasting a platter of food in the oven, you can make an entire meal in a fraction of the time it would take to cook each dish on separate appliances. For this reason, range stoves are a staple in homes across Canada.
Setbacks Caused by Damaged Stoves
However, because your stove is such an important appliance in your home, it's a huge blow to your daily routine when it stops working properly. For many, cooking without your stove is virtually impossible. This forces you and your family to eat dry goods and food from the fridge that does not need to be cooked or heated, which severely limits your dietary options. For all of these reasons and more, having a well-functioning stove is a must.
Beyond the impact on your routine, dysfunctional stoves can also be a significant safety risk to your home and family. In the event of a malfunction causing excessive heating, your stove could potentially start a fire in your home, threatening your family's safety. If your stove isn't working properly, it's something that absolutely has to be taken seriously.
Stove Repairs in the GTA
So, what do you do if your stove isn't working? Maybe it's not heating up to the proper temperature, or maybe it's getting too hot and burning everything. Alternatively, it may not be heating up at all, which could be an electrical issue. At Prime Appliance Repairs, our team of appliance technicians offers comprehensive stove repair and installation services for homeowners and residents in the GTA, Hamilton, and Niagara regions. Our team is well-equipped to diagnose issues with your stove, provide a detailed quote for repair services, and perform the repairs. We pride ourselves on being able to restore your stove and other appliances to optimal performance with minimal interruption to your everyday routine.
What types of stoves do you repair?
Our technicians are fully trained on how to diagnose issues and repair a variety of stoves, including electric, conduction & convection cooking methods, self-cleaning designs, and more. If you do not see your make or model in our list of stove providers, please contact us directly to inquire about a repair.
What common stove issues can you solve?
We provide comprehensive diagnostic and repair services for a wide variety of common stove issues, including electrical sparks, improper temperature & heating problems, broken doors, broken elements, doors that won't close, broken interior lights, constant or consistent overheating and burning, and stalled self-cleaning systems. Our stove technicians have years of experience working with these appliances, so you can trust that they repair your appliance with haste. If a repair would be more expensive than a replacement, our technicians can also recommend suitable replacement models for your situation. If your stove is experiencing any other issues not listed above, contact us directly for a solution and a quote.
How long does a repair take?
When it comes to stove repairs, we try to minimize disruptions to your routine as much as possible. In some cases, we can offer same-day diagnosis and repairs for common stove problems. If the issues persist, it may take longer to repair. For every project, our technicians offer diagnostic procedures, that are free with any repair, to identify the problem and they communicate accurate timelines and pricing quotes before starting any repairs.
How much does a repair cost?
Our technicians provide a full quote on-site after performing a diagnostic test to identify the issue. We pride ourselves in offering transparent pricing, so you never receive an unexpected bill for our services.
Our service call is $89 plus HST, but we offer a free service call with any repair through our technicians. From there, you are only responsible for paying for any necessary parts and labour. You will receive a quote before any work takes place, ensuring you know exactly what you are paying before work begins.
What brands do you service?
Our technicians are capable of servicing and repairing all major brands, models, and makes, including:
Samsung
LG
Dacor
Bosch
Thermador
Kenmore
Electrolux
GE Appliances
Maytag
Whirlpool
Frigidaire
Fisher & Paykel
KitchenAid
Jenn-Air
Miele
Viking
Sub-Zero
Wolf
Asko
True
Sears
Amana
Hotpoint
NuTone
Admiral
Gaggenau
Magic Chef