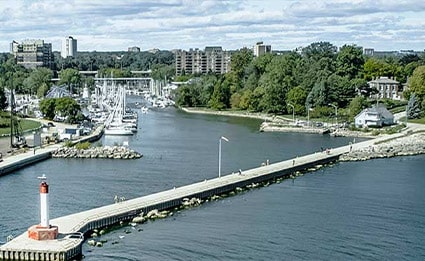 With a population of approximately 200,000 residents, Oakville is a significant suburb of the GTA. This affluent area is home to countless families and professionals seeking a quieter, more affordable lifestyle compared to downtown Toronto, while still remaining within close enough proximity to make their daily commute to work easy and convenient. With a rich history as a strategic military post and a crucial stop on the transportation route between major cities that goes all the way back to the late 1700s, Oakville remains one of the largest and most interesting towns in Canada.
Appliance Repairs in Oakville
With a significant population of families and professionals in the Oakville area, it's no surprise that household appliances are a must-have for many residences. From ovens and stovetops to washers and dryers, each of these household appliances has a huge impact on the daily routine of many Oakville natives. When your appliance isn't working properly, it can put significant strain on your family's routine, causing stress levels to peak. In the event that your household appliances are broken or experiencing issues, our team is here to help. As a top appliance repair company, we offer comprehensive diagnostic, repair, and installation services for Oakville residents. You can rest assured that your appliance was fixed or installed by a seasoned professional. As Oakville and GTA natives ourselves, we take pride in offering high-quality repairs and friendly customer service to all of our neighbours in the local community — and that includes you.
Washer & Dryer Repair Oakville
For many Oakville families, having an in-house washer and dryer at the ready is a convenient addition to their home — any problem that causes a delay to your normal laundry schedule can wreak havoc on your family's life. While laundromats are quite accessible in the Oakville area and much of the GTA, families spend a fortune on laundry, and the inconvenient transportation issue only adds to their stress. At the same time, they wait to have their appliances fixed. If your washer or dryer isn't working properly — maybe your washer won't drain, is leaking all over the floor; won't spin or heat up — give us a call. Our appliance repair technicians have decades of combined experience diagnosing and repairing common problems with washing machines and dryers in the Oakville area. We perform a quick diagnostic test to identify the issue and address it accordingly, helping get you back to your regular laundry routine with as little interruption as possible.
Dishwasher Repairs in Oakville
Washing dishes by hand is an inconvenient task for anyone. For large families who are used to having a dishwasher at the ready, washing dishes by hand can be a massive interruption to your daily routine, adding more strain on your already-tight schedule and causing your stress levels to peak. In the event that your dishwasher is having problems, Prime Appliance Repairs can help. Whether it won't drain, won't heat up, or won't stop leaking, our certified repair technicians can fix the issue in as little as one visit to your home.
We Have Technicians
All Over The GTA!