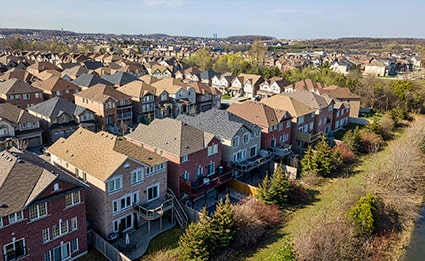 Located just a few minutes north of Toronto's downtown core, Richmond Hill is home to families and young professionals and boasts over 200,000 residents. Offering quiet suburban living with quick, convenient access to all of the amenities of the big city. This has made Richmond Hill a hotspot for immigrants and students who have moved to the GTA in search of a higher standard of living. First founded as a small village in 1873, Richmond Hill has grown into one of the largest suburbs in the GTA, and this growth is expected to continue as the outer boundaries of Toronto continue to spread, and more people move to the city.
Appliance Repairs in Richmond Hill
With a huge population of families, Richmond Hill is a hotspot for appliance repairs. Since many households rely on their home appliances to cook and clean, it can throw a significant wrench in your plans when your appliance is broken. Whether your oven isn't working and you can't cook, or your fridge won't stay cold so you can't store food, we can help. As a top appliance repair company, we take pride in offering the Richmond Hill community swift, efficient, and friendly appliance repair services. As GTA residents ourselves, we offer all Richmond Hill residents the same quality of service we would give our friends and neighbours. After all, we are all part of the same community. Our dedication to customer service has made us one of the top appliance repair shops in the Richmond Hill area — for any home appliance repair, our team of certified technicians can identify the problem and offer a solution, often in as little as one visit to your home. That way, you can get back to your routine with as little interruption as possible.
Oven & Stove Repair in Richmond Hill
Ovens and stoves are must-have appliances for many Richmond Hill families and households, as they allow individuals to cook delicious, heart-warming meals from the comfort of their own home. Without these critical appliances, cooking is a struggle. Ovens and stoves are a crucial reason why many Richmond Hill families can maintain a healthy, balanced diet, so your appliances must be operating at optimal functionality. Our team of professional repair technicians can help address a wide range of oven and stove issues, so you can get back to cooking with confidence and peace of mind.
Refrigerator Repair in Richmond Hill
Unfortunately for many Richmond Hill residents, when issues pop up with their refrigerator, they are left with very few options in terms of food storage. Your fridge lets you keep food cold and free of bacteria growth, which promotes a healthy lifestyle. Without a functioning refrigerator, it can be difficult to meal-plan and prep food that is both healthy and affordable, especially when cooking for an entire family. When issues arise with your refrigerator, our team of appliance technicians can help. At Prime Appliance Repairs, we offer comprehensive refrigerator repair services for homes in Richmond Hill and the entire GTA. For years, our team has been helping Richmond Hill families repair and maintain their home appliances, ensuring they have as long of a lifespan as possible. If your refrigerator is leaking, making loud noises, or won't stay cold, our certified technicians can help identify the issue and repair it without significant delay to your daily routine.
Richmond Hill Dishwasher Repair
At Prime Appliance Repairs, we understand that any issues with your dishwasher can have a negative impact on your everyday life. For all residents in Richmond Hill, if your dishwasher is leaking, won't drain, or leaves food caked on your dishes, our team can help. With a selection of high-quality, certified appliance repair technicians on call, we can help identify your appliance's problem and resolve it with as little interruption to your day as possible. Our technicians have decades of experience solving common issues with dishwashers. With our on-call and emergency repair services for the Richmond Hill area, we will have your appliance up-and-running again in no time.
Richmond Hill Dryer & Washer Repair
Countless families in Richmond Hill rely on washing machines and dryers for in-house laundry. While some people may opt to wash their clothes at a laundromat and dry them on a clothesline, the convenience offered by washers and dryers can't be beaten. At Prime Appliance Repairs, we understand that even a small interruption to your routine can cause major disruption to your life. However, our technicians are dedicated to providing quick, efficient repair services for both your washing machine and dryer. Our technicians ensure minimal delay in your regular laundry schedule.
We Have Technicians
All Over The GTA!