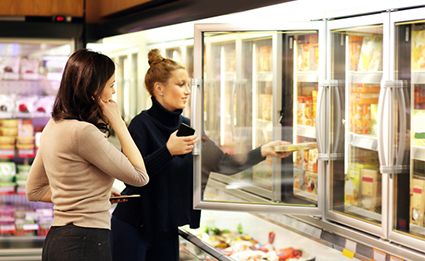 Your freezer keeps food fresh by making sure it's completely frozen, ensuring the container remains at a low temperature so bacteria cannot grow. You can store food for months at a time in your freezer, making meal preparation for busy families a breeze! Many would argue that their freezer is one of the most important and useful appliances in their kitchen. However, when it's not functioning properly, it can completely disrupt your plans for the week.
When to Call Prime Appliance Repairs
If your freezer is leaking, making strange noises, or experiencing changes in temperature, your stored food could become compromised. Changes in temperature can especially pose health risks, since the food may become warm enough to promote bacteria growth. This can be very dangerous and put you and your family at a higher risk for foodborne illnesses — not to mention; this can also cost you a significant amount of money in spoiled food!
Many people spend a lot of time planning their meals for the week and count on the food in their freezer to feed the ones they love. A malfunctioning freezer can be a significant blow to your everyday life. Beyond the money and food losses, the time wasted in food preparation cannot be understated. By not having access to a freezer, it isn't very easy to store your food for long periods. In the event of a broken freezer, your family will have to rely on just your refrigerator and dry goods, which can be frustrating. An experienced repair technician can help in the event you experience problems with your freezer and can help get your meal planning back on track!
Professional Freezer Repairs
At Prime Appliance Repairs, we understand how difficult it can be to live without a freezer. That's why we strive to provide quick, efficient repairs with minimal interruption to your daily routine. We also promise to provide fair, transparent pricing for every project we take on, so you can trust that the price you see is exactly what you pay. In the event that a repair would be more expensive than a replacement, our technicians can also recommend suitable replacement models for your situation.
Our experienced freezer technicians can often perform same-day diagnosis and repairs for many common issues. They are fully trained on how to diagnose issues and repair a variety of freezers, including chest freezers, standalone upright models, fridge-freezer combos, drawer freezers, display freezers, and more.
We provide comprehensive diagnostic and repair services for a wide variety of common freezer issues, including:
Leaking
Noises and vibrations
Improper freezing and cooling
Excess frost
Electrical issues
Our freezer technicians have years of experience working with these appliances, so you can trust that they can repair your appliance efficiently and professionally. If your freezer is experiencing any other issues not listed above, contact us directly for a solution and a quote.